Pelvic Girdle Pain (PGP)
During pregnancy, your hormone levels change dramatically to cause all the physiological changes that are happening in your body. Some of these hormones, especially one called relaxin, causes a softening of the ligaments of the pelvic joints in order to eventually allow the passage of the baby through the birth canal.
---
In some women the softening of the pelvic ligaments, combined with the weight of your growing baby, can cause discomfort or pain.
Pain can be felt either at the back of the pelvis (the sacro-iliac joints) or in the front over the pubic bone (pubic symphysis joint) or in both places. Pain may be referred into the buttock, groin and vaginal area. This is known as pelvic girdle pain (may also be called pelvic joint dysfunction or pelvic instability).
Management of Pelvic Girdle Pain (PGP)
It is important to see a physiotherapist who is experienced in Women's Health so that you can be taught how to manage your PGP. A pelvic support belt may be prescribed to improve your movement control as well as stability exercises, movement modification strategies, massage and ice or heat.
It is important to keep exercising, and while walking and land-based exercise may not be suitable, exercising in the water is safe and appropriate.
Exercising in water is possible for women with PGP because buoyancy reduces the weight transmitted through the pelvic joints and enables low- or zero-impact exercise.
In an Aquamums class special attention is given to modifying exercises so that they are PGP- friendly. You can work on your cardiovascular fitness without aggravating the pelvic joints and do core strengthening exercises to support the pelvic girdle joints.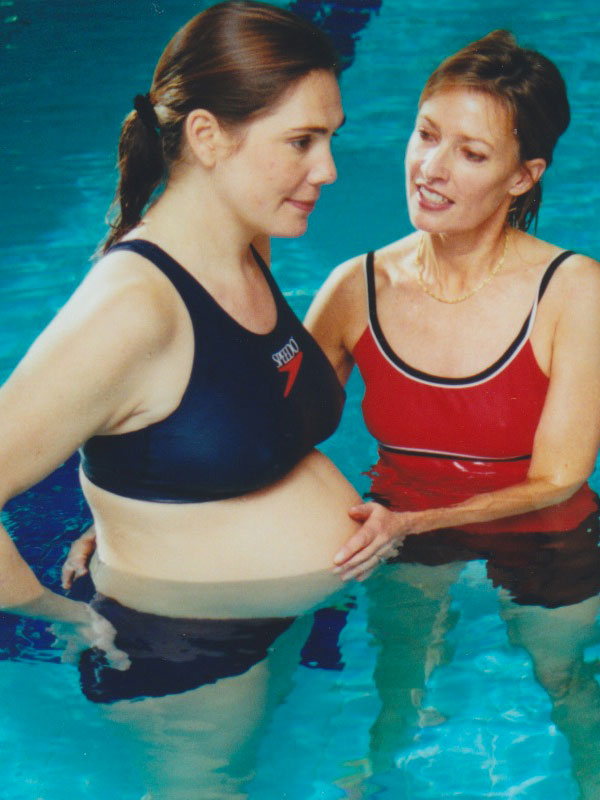 Post-Natal PGP
Usually PGP resolves once your baby is born. The relaxin hormone ceases to be produced after the birth but its effects may last for a few weeks and so symptoms may be felt for this short time.
In a very small number of women PGP may continue in the longer term and these women should continue to exercise in the water and consult with their women's health physio.